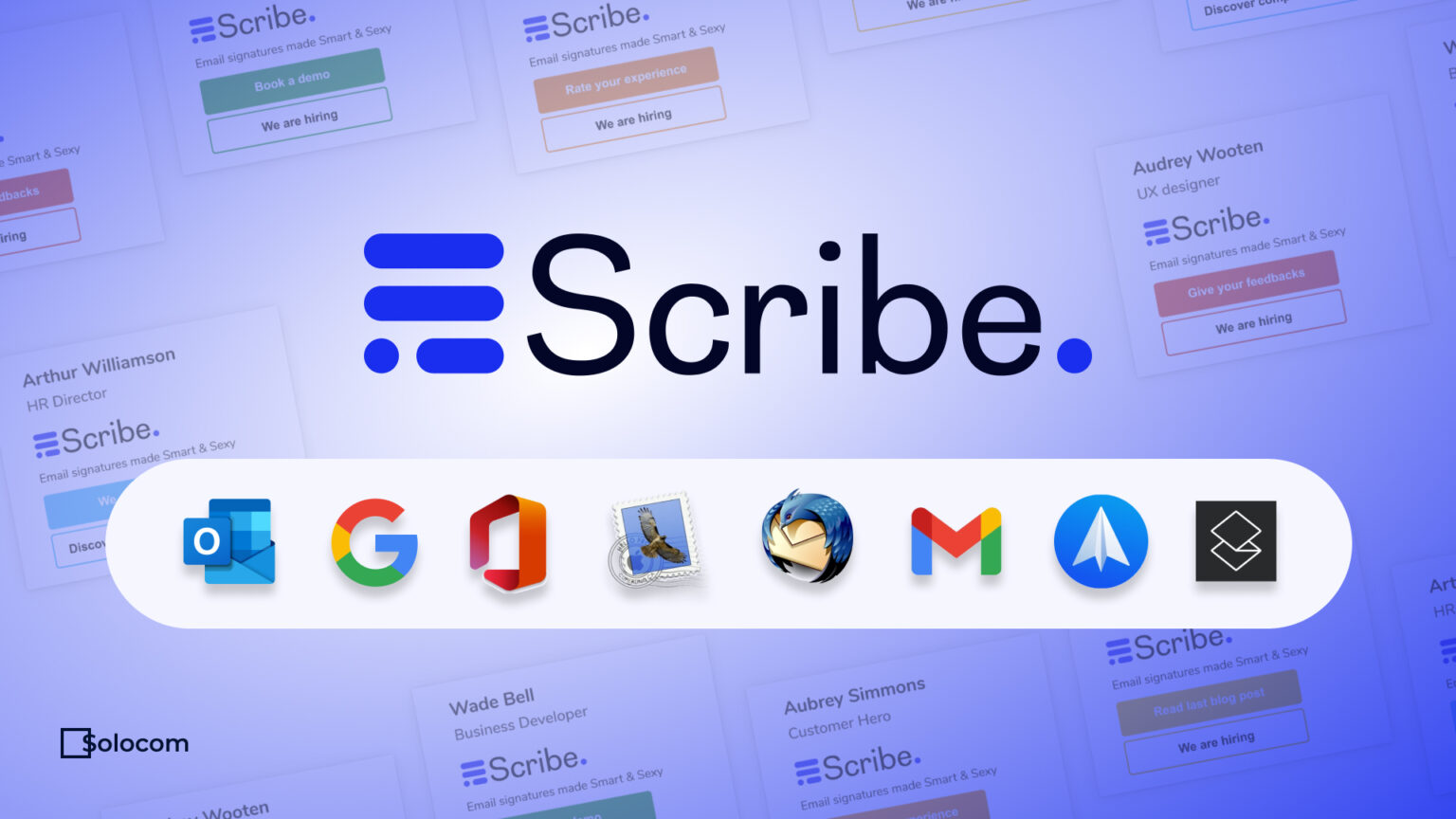 Scribe – email signatures made smart
---
Go to the developers website
---
TL;DR: Scribe is email signature software that works withe Google Workspace, Outlook, Office 365 and others.
Solocom can help you get up and running with email signaturs for your business. It's a great opportunity to get your brand and marketing messages out.
Unleash the Power of Email Signatures with Scribe
In today's competitive business landscape, it's crucial to explore every avenue for marketing and brand promotion. Enter Scribe, the smart email signature software that empowers your organisation to transform ordinary email signatures into powerful marketing channels.
Effortless eet-up, centralized management
With Scribe, creating, installing, and updating email signatures becomes a breeze. In just 10 minutes, you can set up signature templates that align with your brand identity. The best part? Scribe allows for centralised management, eliminating the need for individual input from your team.
Brand consistency and legal compliance
Maintaining brand consistency and adhering to legal requirements are essential aspects of a professional image. Scribe ensures that your email signatures consistently represent your brand across the organization, ensuring legal compliance with every email sent.
Tap into the untapped potential of email
While online distribution channels are saturated, email remains an underutilised and cost-effective means of communication. Your team already sends countless emails daily, making it a valuable and virtually free distribution channel.
Leverage Scribe's marketing power
Scribe unlocks the marketing potential of your email signatures, enabling you to get the right message to the right audience at the right time. Tailor marketing messages for different departments using signature templates, complete with customizable options such as colors, fonts, icons, and even promotional banners or Call to Action (CTA) elements – all without any coding or design skills required.
Seamless Integration with email providers
Scribe seamlessly integrates with popular email providers like G-Suite and Outlook, syncing your co-workers' emails effortlessly. Assign specific email signatures to their corresponding departments, ensuring targeted marketing communication.
Simple deployment and full control
Deploying signatures across your organization is as easy as a single click. Scribe gives you full control over your co-workers' email signatures, allowing you to preview, edit, and force-install them when needed.
In-depth analytics for optimisation
Every link in your Scribe signature, whether CTAs, banners, social icons, or website links, is tracked. Analyze the data using Scribe's analytics to optimize your conversion rates and fine-tune your marketing strategies.
Effortless updates and scheduled campaigns
Updating marketing components across departments is a breeze with Scribe's one-click update feature. Additionally, you can schedule marketing campaigns to automatically change CTAs or banners in your team's signatures, maximizing your marketing efforts.
Discover the untapped potential of email signatures with Scribe and turn every email into a marketing opportunity. Start your journey with Scribe today and witness the transformation of your email communication into a powerful marketing tool.